post caps made of aluminium, copper, brass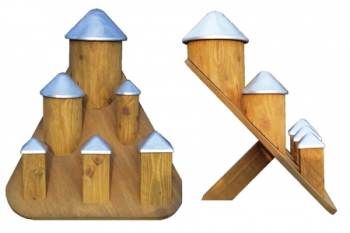 E-Stahls post caps are an easy solution with pretty design.
The post caps are made of high quality material and very easy to install. Post caps not only enhance your fence looks but also protects it from weathering.
The solid post caps are used for picket fencing, kennels and landing stages.

Post caps made of aluminium
Original post caps are made of aluminium. They typically fit on any wood fencing.

Post caps made of copper
Copper post caps are best used to enhance letter boxes, gutters or outdoor lighting made of copper. Post caps made of copper are protected with a layer of special varnish. If you prefer a natural copper rust look remove varnish with steel wool or varnish remover. IMPORTANT: DO NOT USE SAND PAPER!
Post caps made of brass
Brass post caps make your fence look rich and luxurious.
Rosetts made of aluminium
Spruce up your walls with aluminium rosetts.
Shopping cart
You do not have any products in your shopping cart yet.
Visit us at
Welcome back!
Payment
C a l l b a c k s e r v i c e
Special offers

Our previous price 235,62 EUR
Now only 135,99 EUR
you save 42 % / 99,63 EUR
19 % VAT incl. excl. Shipping costs